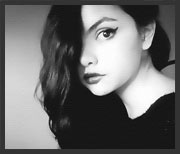 NOWHERE- Emerging Fashion Fridays
Elisa Medina's creative pursuits began with a love for painting and drawing in Quito, Ecuador. Moving to Vancouver, Canada in 2008 allowed Medina to cultivate her technical skills in fashion design at Kwantlen Polytechnic University. In addition, the opportunity to study textile and print design in England expanded the possibilities to translate Medina's visual arts background into fabric and further developed her fascination with the effect that a garment could have on behavior, action, and perception.
Nowhere, the line Elisa has created, draws inspiration from the uniqueness of surfaces combined with textural prints and patchwork details. "Nowhere delves into the intrinsic memory of surfaces, as the passage of time leaves its imprint on them, creating layers of texture and markings that are unique to each material". Her collection for TOM S/S 2016 is highly influenced by the 1930's, an era where there was an emphasis on longevity. With highly structured silhouettes and the use of durable materials such as wool and corduroy, Medina's vision is to produce a collection that is unassumingly sophisticated while highlighting the individuality of each piece.
As a designer, Medina's values are aligned with the slow fashion movement in pursuit of mindful production methods and meaningful relationships between maker, garment, and wearer. Pushing this vision forth, we look forward to seeing her S/S 2016 collection as one of the top five finalists for the Emerging Menswear Designer Award (EMDA), at TOM*.
To read more about PARADIS, please visit www.elisamedinadesign.com/nowhere/