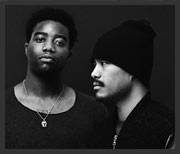 3.PARADIS – Emerging Fashion Fridays
Established in 2013, 3.PARADIS is an innovative and trendsetting luxury ready-to-wear brand founded by designers Emeric Tchatchoua and Raymond Cheung. Long-time friends, Emeric and Ray come from two different corners of the world (Paris and Hong Kong) with a common artistic vision and dream of uniting and embracing all cultures and differences. They are the authentic innovators and visionaries that bring about the magic behind the brand, the vision and creativity.
Emeric "Rico" Tchatchoua and Raymond "Samuray" Cheung respectively from Paris, FRANCE and Hong Kong, CHINA graduated from ESMM and Lasalle Fashion School, Montreal in 2015. After a trip around Europe in 2013, the two designers decided to introduce their approach and passion for fashion and art to the world through the luxury ready to wear label 3.PARADIS by deconstructing traditional ideas and reinventing conventions in menswear with no boundaries, no rules, no conventions.Growing up and living in different parts of the world, such as Paris, London, Hong Kong and Montreal, has certainly contributed to 3.PARADIS design approach largely inspired by European and Hong Kong's lifestyle and street culture. Indeed the two friends don't describe themselves as fashion designers but as artists. Through fashion, they express their creativity, their thoughts and vision of the world of today, their trill and fear. Indeed they call themselves "Street Visionary".
3.PARADIS entails its own holy trinity, a perfect harmony between mind, body and soul so that all cultures interact peacefully and in serenity.
The movement bridges the gap between cultural disparities promoting a common voice amongst today's global generation. "We embrace authenticity with a unique sense of creativity. We are a leader of the new school."
Living between Paris, France and Montreal, Canada, the two designers believe that we are on the brink of a cultural revolution, which will bring about this change. Their avant-garde design and minimalism with a subtle touch of madness will mark a turning point in the evolution of menswear.
To read more about PARADIS, please visit www.3paradis.com/en/