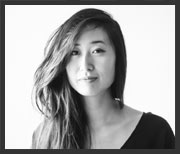 Arc Jewellery- Emerging Fashion Fridays
Designed and handcrafted in Montreal by Lina Hu, Arc Jewellery was born in a time of transition. Originally in Montreal to pursue a Master's Degree in Epidemiology, Lina quickly realized that this was not her calling. She made the difficult decision to leave school, and, on a whim, decided to enroll in a jewellery course. Lina fell in love with metalsmithing, and spent the spring and summer of 2013 developing pieces that have evolved into her two premier collections: Petites Pensees and Pointed Feelings launched in February of 2014.
A rational sensibility from Lina's background in science translates to the clean lines and constrained forms of Arc Jewellery. The newly launched Linearity collection echoes the geometry of the first two groupings, but reduces the ideas to more minimal and almost two-dimensional forms. Lina's designs are polished, simple, and meant to be worn together in a customizable fashion. Lina's aesthetic complements her philosophy that jewellery should not impose style upon the wearer, but instead, the jewellery should provide a canvas for the wearer to instill and display their own personality. Every line and facet in Arc Jewellery's collections are placed with restraint and intention, resulting in minimal, yet expressive, pieces for the everyday.
Arc Jewellery has come a long way from Lina carving designs in her living room. Today, she shares a beautiful studio space with thirteen other designers and artists at Collectif Montreal. Look for Arc Jewellery at INLAND this September, and keep an eye out for the release of her next collection in early 2016.
To read more about Arc Jewellery, please visit www.arc-jewellery.com/