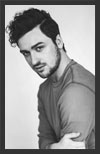 Matthew Gallagher – In the Spotlight
If you are a follower of Canadian fashion, the name Matthew Gallagher should certainly ring a bell. The bourgeoning designer is having a defining year – he was among the nominees for the CAFA 2015 Swarovski Award for Emerging Talent and is currently up for the prestigious TFI New Labels prize.
He has also dressed the likes of actress Elisha Cuthbert, who wore Maison Matthew Gallagher to The Golden Globes fêtes earlier this year. Armed with Milanese training, an innovative approach to design and a personable manner, it is easy to see why Canada's fashion community is beginning to take note of this fresh talent.
We stopped by Matthew Gallagher's studio to talk about his flourishing career and to hear his insights on the challenges of being a contemporary emerging designer in Canada.
Certain photos courtesy of Katya Koroscil.
To read more about Matthew Gallagher, please visit http://www.maisonmatthewgallagher.com
CAFA: What first motivated you to pursue a career in fashion?
MG: I've always wanted to pursue a career in fashion. During my childhood, I loved expressing myself through arts and crafts. However, I didn't really understand that I could make a career out of my creativity until I was about sixteen years old. I began looking for opportunities to get experience, quickly realizing that I would have to leave Nova Scotia to progress.
I wrote letters to various internationally renowned figures in the fashion world and was lucky enough to hear back from Tom Ford. He sent me an encouraging response that commended my motivation and my passion for the craft of design. Over the next few years, we kept in touch; I sent him sketches and he'd respond with feedback and advice. Tom Ford is a fashion icon – the fact that he took the time to stay in touch with an aspiring designer speaks volumes of his good character.
Later, I won a scholarship to attend a pre-college programme at Parsons in New York City. Thanks to Kal Ruttenstein, I was able to intern for Tracy Reese. Spending time in New York influenced me greatly and I began to experience more of the world. It was eye-opening.
CAFA: You studied in Milan. Did spending time in Italy influence your design aesthetic?
MG: Definitely. Living in Europe changed everything from my style to my worldview. My experiences abroad influenced both my brand's aesthetic and my personal style. I was especially inspired by the rich culture, history and architecture that characterizes Italy. Milan was one of the best places for me to learn about design given that it is one of the capitals of the fashion world.
CAFA: What is your creative process?
MG: I imagine that each season is like a film in which my muse plays a different character. That being said, I tend to work backwards by beginning to design before I've determined on a concept or mood. First, I begin by sketching then organizing my ideas to decide where to take the season. It's a process that begins with collecting images and ends with connecting the dots to create a coherent collection.
CAFA: What do you think are the biggest challenges of being an emerging designer based in Canada?
MG: Canada has a small fashion community that seems eager to help up-and-coming designers. Yet, one of the biggest shortcomings of the community's support is that opportunities for new talent are few and far between. I think that an increase in patronage and mentorship would really help the new designers looking to break through in the Canadian fashion industry.
CAFA: What defines your brand's identity?
MG: The core of my brand's identity is nostalgic. I love my grandmother's generation because most women carried themselves with grace and elegance. I would love it if my designs inspired people to add more refinement to their daily outfits. Overall, I would describe Maison Matthew Gallagher's identity as feminine with a mix of classic and contemporary style.
CAFA: What are your aspirations for Maison Matthew Gallagher?
MG: would love to establish a physical retail space that doubles as an atelier. It would serve to showcase my designs and display my artisanal approach to fashion. I'm also interested in the idea of conceptual retail with curated merchandise. It is my hope to expand Maison Matthew Gallagher into a lifestyle brand.
By: Alexandra Thais Serrano
aserrano@cafawards.ca