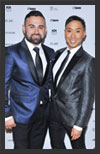 Christopher Paunil – An Artful Alliance
"The business of fashion is sometimes overlooked," says emerging designer Christopher Paunil. While it is true that fashion's creative facet tends to take the spotlight, a brand simply cannot survive without the essentials of commerce, finance, marketing, and administration. The Toronto-based designer, along with his business manager Chalo Barruta, aims to strike a balance between artistry and business savvy.
The duo recently spoke with CAFA about their latest ventures, including their residency at the Toronto Fashion Incubator (TFI) and designing for Kleinfeld Hudson's Bay.
To read more about Christopher Paunil, please visit http://www.christopherpaunil.com
CAFA: What first inspired you to make a career of fashion design?
CP: I was first inspired by my grandmother who lived with my family while I was growing up. I would often see her making patterns, sewing dresses and creating her own garments. I also had a strong interest in fashion throughout my education; it was outlet for expressing myself. A garment can change the way you feel – more confident, elegant and beautiful. I decided to make a career out of the desire to make things beautiful, and be part of a world where you can escape your everyday life.
CAFA: How did you decide to come together as business partners?
CP: We started our business in 2010 after having dated for five years. Throughout our relationship, Chalo capitalized on his background as an entrepreneur. We've come together for this label by taking on complementing roles: I handle the design and creativity, Chalo handles the business and marketing. A lot of people forget that fashion is a business, they just think of it as art, but at the end of the day the business aspect is of equal importance. I would not be in the position I am in now without Chalo as my business partner.
Chalo Burreta: I think Chris is very talented in the design realm. However, it takes a completely different skill set to build a business. It's often challenging as there are things to juggle like administration, records, and taxes. It can be overwhelming for one person to manage dozens of elements. What I'm trying to do at Christopher Paunil Designs is to facilitate the process of bringing pieces to the market that are both beautiful and commercial.
CAFA: What goes in to your creative process when you are putting together a collection?
CP: One of the main things that I consider when designing collection is how flattering it will be on a woman's body. I put myself in my customer's shoes, I think what I would want to emphasize and show off. When I design something I want to make sure that my work can flatter a broad range of sizes and body types. I'm also always including timeless elements into my designs, I want my customer to pull out a piece that they bought this season and have it feel current for many years down the road.
CAFA: Would you say that Canadian culture influences your designs or contributes to your aesthetic?
CP: I'm definitely designing with the women of Canada in mind. Since we launched our ready to wear collection last fall we have focused on using fabrics that can be worn year round. We are using jerseys, light weight neoprene and meshes that also travel well. Most of our pieces can be layered and worn with pieces that women likely already have in their wardrobe.
CAFA: Your pieces will be featured in the prestigious Kleinfeld Bridal Boutique Canada, can you talk a bit about that experience?
CP: Kleinfeld invited us to research the ethnically diverse bridal market in Toronto. Chalo and I found that there was a large demand coming from the Chinese and Indian communities. These two cultures make up a significant part of the bridal market, so Kleinfeld challenged us to create a collection that fuses Indian and Chinese tradition with western culture. We have created a red dress collection that fuses Indian and Chinese traditions and textiles with my aesthetic. The dresses have my timeless signature silhouettes combined with traditional Chinese and Indian elements.
Chalo Burreta: Chris decided to design something forward-thinking with an array of influences from traditional elements. I think that speaks to his ability to be able to design for the Canadian consumer and hopefully his designs will translate to the international market. The Canadian marketplace provides more local designers with great opportunity. We are inspired by the global expansion of an iconic Canadian brand like Joe Fresh.
CAFA: What would you say has been the most definitive and proud moment of your career so far?
CP: We just delivered our first batch of dresses to Kleinfeld, which is a very proud moment as this opportunity can open a lot of doors for us. Since Say Yes to the Dress began airing, I always thought that it would be amazing if one day Kleinfeld would carry my collection. It's a huge honour to be creating dresses that women will be wearing on their big day. Probably one of the biggest milestones in our career.
Chalo Burreta: Chris always dreamed of having his designs carried by Kleinfeld because it is the world's most luxurious bridal retailer. They are supporting Christopher because he is local and he's talented, we are hoping for a long and fruitful partnership. We are also thankful to the Toronto Fashion Incubator and Susan Langdon who connected to us to Hudson's Bay Company. Fashion is a serious business and at the end of the day I think we have had the good fortune of having the support of the Canadian fashion community.
CAFA: What advice would you give to up-and-coming designers about launching a label?
CP: I know that I wouldn't have been prepared to launch my own label had I not worked in the industry for other designers. I worked in the industry for seven years because I wanted to gain experience and learn from my talented colleagues. My advice is to get experience and learn from others. I would also tell emerging designers to plan financially for the start-up costs of having your own business.
Chalo Burreta: I think that fashion is really tough in Canada and that you just have to be distinct. You have to learn from your mistakes and take on something like the apprenticeship model. If you learn from a master professional who can mentor you and help develop your skills, you can then go out on your own. You have to work for a designer and understand the business. Make it a mutually beneficial relationship where you don't exploit their knowledge and instead contribute to their business just as much as they are contributing to your knowledge.
By: Alexandra Thais Serrano
aserrano@cafawards.ca