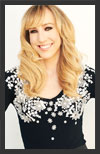 Emerging Fashion Fridays – Jacqueline Piron
Upon graduation from the prestigious Wilfrid Laurier University School of Business, Jacqueline joined her family's business as a marketing and brand strategist. She has travelled extensively to Europe, Japan and the United States, honing her business skills and gathering inspiration from museums, art and fashion from around the world.
Jacqueline was always eager to carry on the fashion tradition. Her mother, designed one-of-a-kind luxury sweaters made with French angora, pearl buttons from Harrods, silk and mohair yarns from Germany and Italy. Today, Jacqueline is picking up the pieces that her mother left behind; incorporating similar embellishments to her luxury t-shirt designs.
Jacqueline's collections are inspired by historic cities and each shirt is named after women in her life who has inspired her. She uses the finest available materials: Swarovski crystals, French angora, Italian and German mohair, leather, Italian silk organza, Japanese lace and ribbons. Her brand mission is to add upscale luxury, glamour and unexpected elegance to a wardrobe staple that every woman wears. Her beautifully detailed, intricate shirts easily transition from day-to-night, and are a perfect complement to any outfit making them not only fashionable but functional too.
Jacqueline's shirts have been widely requested by many stylists, magazines, luxury retailers and sent to A-list celebrities (Jessica Chastain, Jessica Alba, Lea Michelle, Jamie Cheung, Rachel McAdams, Chloe Grace Moretz, just to name a few). They have also been featured on various media outlets and blogs such as CTV's "The Social", Breakfast Television, The Globe and Mail, Adventures in Fashion, The Luxe Life, The Notable, The Grand Magazine, Beauty Echoes Magazine, The Booklet and Post City among others.
Jacqueline's designs are proudly produced and hand-sewn in Canada with an emphasis on superior fit and quality tailoring.
To read more about Jacqueline Piron, please visit http://jacquelinepiron.com/