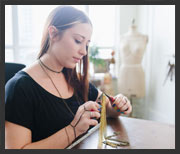 Dolorous Jewelry – Emerging Fashion Fridays
Dolorous Jewelry is a collection of hand made accessories designed and produced by Toronto-native Danielle Singer. Inspired by historical and specifically Medieval accessories, Dolorous Jewelry is known for its signature styles of body chains including Broad Collar Shoulder Jewelry, a variety of Hand Pieces and versatile cross-body necklaces. The line has an organic aesthetic that gives a casual and wearable feel to each piece whether it is a subtle unisex lariat or an elaborate statement piece.
With a background in both independent and formal studies of drawing and sculpture, and eventually formal training in the trade of Goldsmithing from George Brown College, founder Danielle Singer has always brought a unique sculptural sense to all her designs. The line was born during the designer's time at school, using her bedroom as a studio, and selling through Etsy and a select group of local vendors. Inspired by medieval styles of jewelry and the ancient practice of full body adornment and day to day opulence, Dolorous Jewelry quickly grew a faithful and distinct following. Since then the brand has grown to be sold by many international retailers including Free People, and has been seen on celebrities including Daria Werbowy, Taylor Momsen and Adelaide Kane both on and off the screen for CW's Reign. The line has also garnered attention by many fashion publications including FLARE, ELLE, Glow, Pulp and the Globe and Mail.
The materials for the each collection are all meticulously sourced by the designer with environmental consiousness as a priority of the brand. The materials are always of the highest possible quality and many supplies are repurposed vintage materials and of limited stock making each piece unique.
To read more about Dolorous Jewelry, please visit www.dolorousjewelry.com/