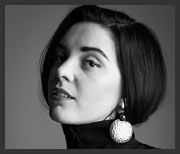 Brit Wacher- Emerging Fashion Fridays
Montreal based designer Brit Wacher forges a specific and precise path in creating quality, handcrafted, and original, wearable objects. Following her graduation from La Salle University in Vancouver, BC she worked as a stylist in Thailand before relocating to Arnhem where she worked with Dutch designer Pauline Van Dongen. It was under Van Dongen's tuleage that Brittany began to refine her approach to garment construction and the practice of conceptual exploration. Wacher's pieces are reflections of experiencing life through fantasy and simultaneously, the core conflicts of the physical world. Integral to her vision is the concept of duality and the passage of energy through time and space. This energy, represented by moods and feelings is transformed into shapes, colour blocking and use of lines in textile. Habitual examination of information collected consciously and subconsciously, creates a strong dialogue between simplicity and chaos. Thus, producing a display of shapely, complex, unconventionally tailored garments.
This dialogue between simplicity and chaos is reflected in the formal aspects of the clothes' unique minimal sensibility. Sharp lines and angles define the garment's dynamic, austere silhouette. Accompanying details involve the interplay of structured details with contrasting, soft, flowing, forms. A palette of earth tones, punctuated with subtle sections of electric colour, is framed by the predominant use of black and white and exclusive in- house prints.
Brittany Wacher's label Brit Wacher, has been viewed at Toronto Fashion Week, Montreal Fashion Week, Saturday Night Live, and featured in Vogue Italia, Glow Magazine, Clin d'oeil Magazine, Flare Magazine, FASHION Magazine, Brooklyn Magazine. Brittany collaborates with other designers, artists, and musicians in creating multi-disciplinary projects which allude to the overall concept of creation and contribution to creative community.
To learn more about Brit Wacher visit: http://www.britwacher.com/