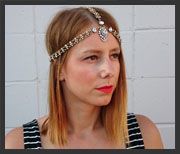 COUTUKITSCH- Emerging Fashion Fridays
Jewelry line CoutuKitsch is linked closely to the life of its founder, Dorian Kitsch. The very name pays homage to Dorian's roots. Coutu is a family name representing her Metis heritage, while Kitsch is Dorian's surname from her father's stepfather. This heritage is represented in each piece from the CoutuKitsch line, which is built on the belief that there are no rules when wearing jewelry.
Born and raised in Manitoba, Dorian describes herself as a creative individual whose talents were always nurtured by her family. She was an artist from a young age, drawing, colouring and even designing outfits for Barbie dolls from her mother's fabric scraps.
In 2004, Dorian attended Olds College where she attained a Certificate in Fashion Marketing and a Diploma in Fashion Design. Armed with an education, Dorian moved to Calgary to begin working on her career. There, she gained experience in the retail industry however always feeling a creative void. Realizing she needed a medium to express herself Dorian found jewelry and began experimenting by taking it apart and recreating it with her own twist. The brand CoutuKitsch was born on November, 2010. With the help of her sales partner, Kofi Oteng, the brand has grown tremendously and is now part of the Livery Shop, a retail store/work shop located in Inglewood, Calgary that is owned and operated by CoutuKitsch & Camp Brand Goods.
CoutuKitsch prides itself on uniqueness, representing both the old and the new. The line is handcrafted using a combination of vintage supplies, precious metals, and gemstones. The result is a product that is unexpected, beautiful and one of a kind, designed for a customer who is not afraid to express themselves and make a statement.
To learn more about CoutuKitsch visit: http://www.coutukitsch.com