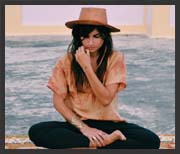 Sarah Sears- Emerging Fashion Fridays
Born and raised in Nova Scotia, Sarah Sears considers jewelry design her first love. Her journey began in 2008 during a trip to South East Asia to teach English. During her time in Chiang Mai, she enrolled in an introductory jewelry making course at the Nova Art Lab. Shortly after, she returned to Canada, ready to attend art school with a mission to master the art of metalsmithing. Sarah graduated in 2013 from NSCAD University with a major in Jewelry Design/Metalsmithing.
Upon graduating Sarah moved to New York, gaining experience in the industry by interning under jewelry designer Anna Sheffield at Bing Bang NYC. Shortly after, Sarah decided it was the right time to start her own jewelry line, and launched her eponymous label Sarah Sears Jewellery.
Although her line can be described as minimalistic, she describes herself as a bohemian at heart. She loves shapes and integrating precious gemstones like Labradorite, Moonstone, Rose quartz, and Lapis Lazuli.
Currently living and working in Halifax, Sarah chooses to wander the world to gather inspiration. Her latest collection is influenced by her four month expedition to India. It will be launched in the fall of 2015.
To learn more about Sarah Sears visit: http://www.sarahsearsjewellery.com/