Applicant Criteria
The Bay is proud to announce the launch of the The Bay Fashion Fund, an initiative built to mentor and support emerging BIPOC designers and brands in Canada. The Fashion Fund will award one BIPOC designer(s) or brand with a $25,000 grant, coupled with a three-year mentorship program to help tackle some of the obstacles new designers face when entering the competitive retail landscape. The Fashion Fund is a part of The Bay's extensive work to help accelerate racial equity in Canada.
As part of the three-year mentorship program, the selected recipient will gain an unprecedented opportunity to leverage The Bay's network to build their skills and expertise in product development, sourcing, financial management and marketing, including the possibility to partner with The Bay's brick-and-mortar and digital channels to showcase and sell their collection.
The Fashion Fund is open to all fashion, footwear, handbag and jewelry collections but we are looking for designers or brands that display a high level of craftsmanship and workmanship, a strong balance between the conceptual and the commercial, and have a solid creative range of work.  Please see below for further information and application requirements.  Applications are due September 8th, 2022 and the winner will be announced at the CAFA awards on October 19th 2022.
Eligibility Requirements
Established/operating business for at least 3 years at time of application
Business must operate in e-commerce (e.g., website sales, social media sales)
Business must be majority-owned or designed by a BIPOC Creative Director or Designer
Business must be based in Canada
All entrants must be at least 18 years of age as at the date of application
How to apply?
Applicants are required to submit the following in PDF format:
A biography and brand mission/overview (including any special achievements, awards, collaborations, etc.)
A description of current e-commerce sales and presence (e.g., social media overview, including applicable handles per platform, top-performing social media highlights, link to brand website, etc.)
Lookbooks from your two most recent collections, if applicable
A two-page business overview including current details on goals for growth, marketing, distribution, manufacturing and sustainability. The plan should include at least the following details:

Specific challenges you have experienced in your business.
What areas of your business do you need the most support in and why?
Where would you like to see your business in 5 years to 10 years?
When looking at sustainability and the circular economy, what plans, if any, do you have in place?

Any additional information you wish to provide (e.g., media deck/press coverage highlights, launch and campaign videos, collaboration with any influencers or celebrities, etc.
Additional Rules and Regulations
Members of CAFA, The Bay and The Fashion Fund Council members will review all of the eligible applications and select a winner at their sole discretion.  The decisions are final and please note:
The Bay reserves the right to suspend, modify, terminate or cancel the Fashion Fund at any time
The Fashion Fund is not open to employees or contractors of The Bay, Hudson's Bay or The Fashion Fund Council Members.
The selected recipient will be required to agree to additional terms and conditions covering topics such as confidentiality, obligations during mentorship, etc.
By entering the competition, the entrant: (i) acknowledges and agrees to the terms and conditions above, (ii) certifies and warrants that the submitted application materials are the entrant's own original work and do not and will not infringe any right of any third party, including intellectual property rights, moral rights, and rights of privacy and (iii) gives to CAFA and The Bay group of companies the right to use and/or publish for any purpose, including moral rights, without compensation or restriction, the recipient's name, photo and likeness, brand or trademarks or other applicable intellectual property, as it relates to promoting The Bay and all the activities that surround the Fashion Fund.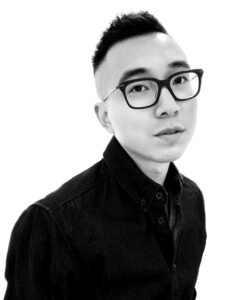 Corey Ng
Ottawa native, Corey Ng, is an award-winning stylist who has worked alongside some of the country's most reputable names. His authentic, timeless and elevated aesthetic has inspired his work as a stylist, creative director, design consultant, fashion editor, and television style expert. His work has been seen in the pages of Vanity Fair, L'Officiel, ELLE Canada, and FASHION Canada, and his celebrity clients include Cole Sprouse, Winnie Harlow, Antoni Porowski, Chiara Ferragni, and Serge Ibaka. Corey was awarded Stylist of the Year at the 2021 Canadian Arts & Fashion Awards.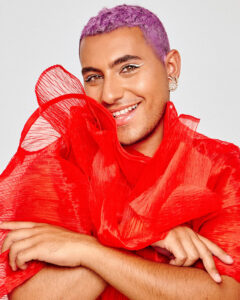 Mina Gerges
Mina Gerges is an Egyptian plus-size model, actor, and TV personality. Known for his fearless self-expression, colourful style, and bold makeup looks, he's built his vibrant career on the principle that being your authentic self is your superpower. An outspoken advocate for change and inclusivity, he is committed to creating meaningful representation in the fashion world and to building a new inclusive future where everyone belongs.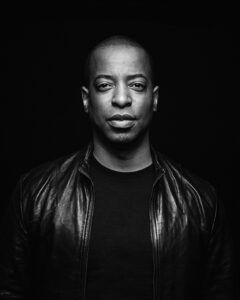 George Sully
FGI Visionary Award Winner, George Sully is best known as the original maker of the Star-Trek Discovery Starfleet boot. Sully is also a Bata Shoe Museum inductee, creator of Black Designers of Canada, co-founder of House of Hayla and newly minted accessory brand Sully & Son Co., which can be found on thebay.com and in Hudson's Bay stores.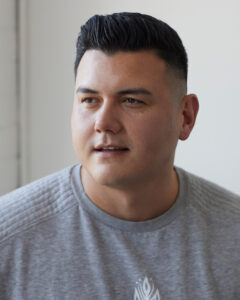 Patrick Hunter
Patrick Hunter is an artist, graphic designer and award winning entrepreneur from Red Lake, Ontario. Though best known for his woodland art style paintings, Patrick has also been having a positive and impactful impression in the corporate world through collaborations with Rogers Media Company, Manulife, Ontario Power Generation, as well as TD & RBC banks to name a few. Patrick has engaged the world of sports with artistic collaborations with the Chicago Blackhawks, creating the uniforms for the Canadian Olympic curling team, as well as APTN's new Bryan Trottier award for Indigenous excellence in the NHL. When not collaborating with exciting national partners, Patrick is creating awareness about his Ojibway roots and inspiring creative confidence through in-person and virtual paint workshops across North America.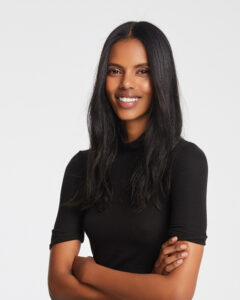 Grace Mahary
Eritrean-Canadian model, sommelier and global activist Grace Mahary was discovered while shopping with her mother in Toronto. She has walked runway shows for the most notable names including Chanel, Christian Dior, Valentino and Balenciaga. Focused on being an agent of change, Grace founded Project Tsehigh (PjT) in 2015, with a mission to provide uninterrupted and sustainable electricity to developing communities in Eritrea, Tanzania and more. Believing in a purpose bigger than herself and leveraging her platform as a model, Grace's vision is clear: to help equip communities with the resources and well-being they need to succeed.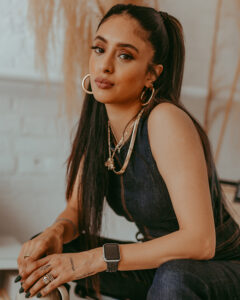 Sandy Kaur Gill
Sandy Kaur Gill (SKG) also known as TheSandyLion is a stylist and designer with the goal of
helping people look and feel the best about themselves. Sandy's clients include Lilly Singh,
Beena Minhaj, Deepica Mutyala, Utkarsh Ambedkar, and Salone Monet. Her brand Tuff Bandit is a collection of her various designs and is her way of storytelling. As a child of an immigrant, WOC and Punjabi POC, she focuses on stories of resilience, love and learning. While recently her focus has been comfort wear, she gained notoriety for her SandySuit, a power suit made of traditional Indian fabrics. Sandy is also an elementary school teacher, who has written 2 of her own children's books.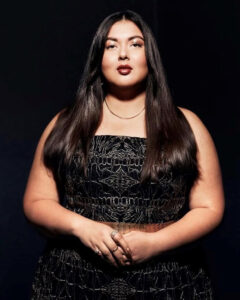 Lesley Hampton
Lesley Hampton is an Anishinaabe Artist and Fashion Designer focused on mental health awareness, body positivity, and authentic representation in fashion, film, and media. She is the Creative Director of LESLEY HAMPTON, an indigenous-owned, size inclusive clothing and accessory brand based in Toronto, ON. She is also a signed curve model with BNM Model Management, and speaker on Indigenous entrepreneurship. Lesley Hampton is a member of Temagami First Nation, located in northern Ontario, and she also identifies as a 'third culture kid' with her early life of constant relocation. Formative years spent in Canada's Arctic and Atlantic, Australia, England, Indonesia, and New Caledonia, added to her quest to establish a personal and cultural identity. Lesley defines herself through the amalgamation of her Anishinaabe indigeneity and her early nomadic upbringing. Lesley has nurtured a passion for socio-cultural concepts, to help define her identity, and reconnect with her indigenous roots.