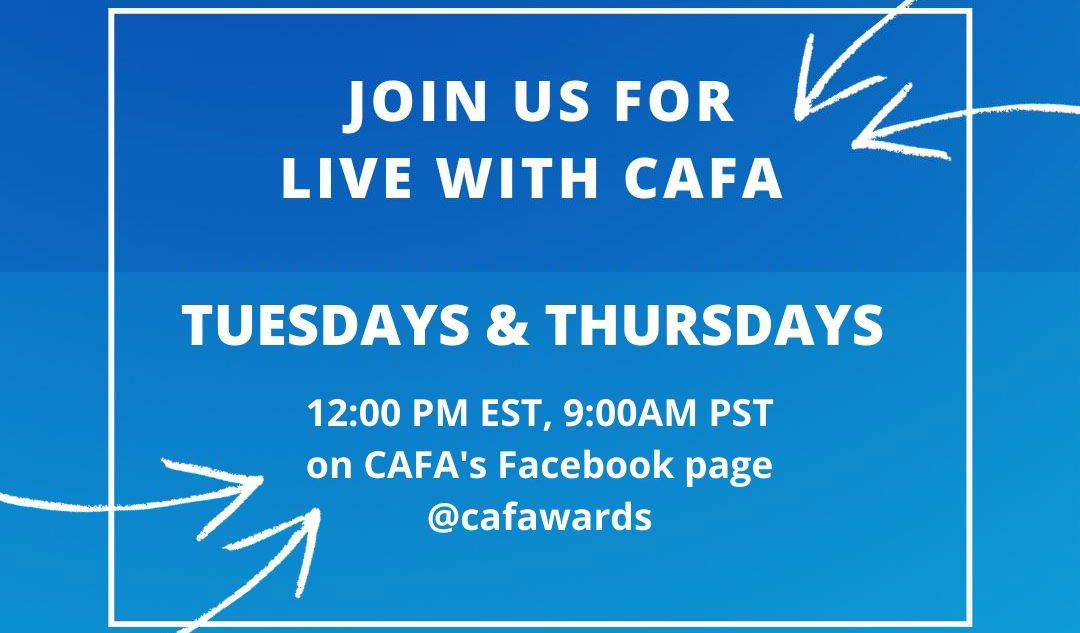 SUPPORTING OUR FASHION COMMUNITY IS OUR #1 PRIORITY
We know that these turbulent and stressful times due to the COVID-19 crisis and that the strain is impacting all of us, personally and professionally.
In an effort to continue our support and advocacy for the success of our fashion industry, we are launching LIVE WITH CAFA. Twice a week we will bring an expert guest to our Facebook page who is well positioned to
answer questions and offer guidance on a specific topic.
You can ask questions in real time through the Facebook page feed or send questions in advance to live@cafawards.ca.
Topics will include legal issues, marketing and communications, mental health, business strategy and more.
UPCOMING TALKS
Episode 16: Tuesday May 26 at 12 PM EST with celebrated photographer and director, Justin Wu. Justin will share his thoughts on future of advertising campaigns, image-making and the future of creative collaboration will look like
Episode 17: Thursday May 28 at 12 PM EST with fashion stylist, film and image maker and environmental activist Sarah Jay. Sarah will discuss how the fashion and beauty industries will react to COVID and if a greater focus on sustainability will follow
All episodes are posted to CAFA TV on YouTube.
Episode 1: Personal finance expert Bruce Sellery answers your money questions.
Episode 2: Navigating Canada's $107 Billion COVID-19 Economic Stimulus Package with lawyer, Ashlee Froese.
Episode 3: Business Strategist Carla Wood on being strategic during a crisis.
Episode 4: Mental Health Counsellor, Susan Raphael, discusses managing anxiety.
Episode 5: Optimizing E-Commerce Platforms w Krysta Roney, Community Manager Shopify.
Episode 6: Jenny Bird on her global brand's strategies for resilience during COVID.
Episode 7: Peter Papapetrou, renowned freelance stylist, fashion director and resident Style Expert at the Marilyn Dennis Show, will share his thoughts and approach to freelancing during a crisis.
Episode 8: Brand strategist and marketer Paulo Leone will share his perspectives on what brands are doing a good job at marketing during this time and how you can incorporate best practices into your campaigns.
Episode 9: Tuesday April 28 at 12 PM EST Charles Le Pierrès, president and founder of Judith and Charles, will discuss leadership and decision making during COVID and how the brand is surviving.
Episode 10: Thursday April 30 at 12 PM EST founder of Froese Law entertainment, branding and fashion lawyer, Ashlee Froese, returns to go through the updates to the Government Stimulus Package and Support Effort.
Episode 11: Tuesday May 4 at 12 PM EST with makeup artist, beauty expert, spokesperson and lead artist for Maybelline NY, Grace Lee, on the impact of COVID on beauty professionals.
Episode 12: Thursday May 7 at 12 PM EST with fashion designer Hilary MacMillan shares her business pivots and inspirations.
Episode 13: Tuesday May 11 at 12 PM EST with Mavis Huntley, founder of Smithery. Mavis will share how she is leading her online business from marketing to working with suppliers and preparing for the future.
Episode 14: Thursday May 13 at 12 PM EST with Vicky Milner, president of CAFA. Vicky will share her perspective on the current and future outlook for the Canadian fashion industry.
Episode 15: Thursday May 21 at 12 PM EST with Diana Carrelli, partner at artist representation agency P1M, will share her perspectives on the future of photoshoots and set work, and how she is guiding her roster of freelance artists to stay inspired during COVID.