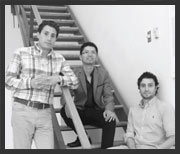 Daniel Christian Tang – Emerging Fashion Fridays
MORFOLOGI by DANIEL CHRISTIAN TANG
Morfologi, by Daniel Christian Tang, is not just a line of jewelry – it is a tactile architectural experience. The jewelry created in the collection are true, one of a kind pieces of wearable art. Each piece is custom made from a single 3D printed file, cast in the finest materials and finished in Platinum, 18k Gold or 18k Rose Gold . Through the fusion of innovative design and modern technology, Daniel Christian Tang, has created a jewelry collection that harmoniously blends modern style with timeless elegance inspired by the intersection of art and architecture.
The design team that makes up Daniel Christian Tang is one with an eclectic mix of disciplines that range from Biochemistry & Architecture to Material Sciences & Art. Graduating in all disciplines with Degrees of Distinction and High Distinction, the team of Daniel Christian Tang bring a fresh and immensely unique set of skills in the design of jewelry and wearables. Mario Christian and Heng Tang, both graduates of the prestigious Masters of Architecture (M.Arch) at the University of Toronto bring to DCT accompanying degrees in Art and Biochemistry and have spent the better part of a decade studying, designing and competing together on a global scale. Luca Daniel is a graduate from the University of Waterloo Bachelors of Applied Science with a concentration on Material Sciences and a certificate in Structural Engineering. The team's technical skills and natural design minds masterfully create the unique designs behind Daniel Christian Tang brand.
3D Print technology allows the Morfologi collection to cross-pollinate its designs with Architectural modelling software and 3 Dimensional Digital Manufacturing Technology. These designs transcend the realm of traditional jewelry and offer clients an experience unlike any other piece of jewelry. Inspired by nature, Morfologi Designs are more than bracelets and rings; they are a testament to the cherished beauty of Jewelry, the Variability of Nature and the Uniqueness of Art.
The Morfologi collection is the future of jewelry. Check out the full collection and shop: http://www.danielchristiantang.com/