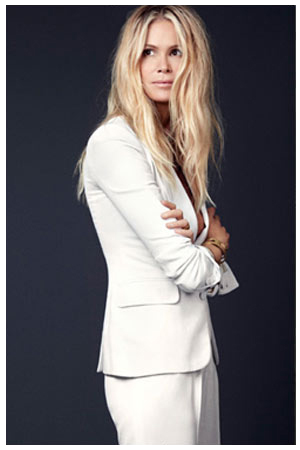 2016 Hudson's Bay Vanguard Award Honoree – Elle Macpherson
Elle Macpherson is a prominent figure in business, fashion, film and television, having carved out a diverse and purposeful career over the past 30 years. Elle has endeavored to connect with people and projects that resonate with her values.
ELLE MACPHERSON IN MODELING & ACTING
Her career began in 1982 with a TV commercial for TAB cola that rocketed her into the modeling world as the favorite 'Australian girl next door'. In 1986, Time Magazine pronounced her as 'The Big Elle' and ran a cover story on her career. Elle Then appeared on a record five covers of the Sports Illustrated Annual Swimsuit Edition.
Capitalizing on her success, Elle decided to executive produce her own worldwide best selling calendars and 'making of' television programmes in 1992, 1993, 1994 and her next entrepreneurial venture – 'Your Personal Best – The Body' workout video that was voted the Year's Best by Billboard magazine in 1995.
Elle has also enjoyed creative expression through acting in films such as Woody Allen's Alice, Siren's opposite Hugh Grant, Batman alongside George Clooney, The Edge with Anthony Hopkins and The Mirror Has Two Faces with Barbra Streisand. She also guest starred in seven episodes of the NBC hit sitcom "Friends" and the CBS/Paramount television series, "The Beautiful Life".
In March 2008 Elle signed a three-year global deal with Revlon as an ambassador and spokeswoman.
THE ACCIDENTAL EXECUTIVE
Elle's early modeling afforded her global recognition and the nickname 'The Body'. In true entrepreneurial spirit Elle wanted to leverage the street recognition she had built by modeling, through innovative licensing businesses that embodied her own personal brand.
In 1989, Elle was approached by a New Zealand based company to promote their lingerie. Elle saw an opportunity to reverse conventional strategy and suggested a licensing arrangement bearing her name with designs co-created by her. Elle Macpherson Intimates was born in 1990 and launched in Australia and New Zealand with immediate success. While commonplace today, this idea was unorthodox at the time. Elle expanded her brand in 2005 with the creation of Elle Macpherson The Body® products partnering with Boots Alliance. The bath and body line was distributed through Boots in the U.K. generating £10 million in retail in its first year.
In 2010 Elle took on a new TV role as both host and Executive Producer of the sixth, seventh and eighth series of "Britain's and Ireland's Next Top Model". Elle and the team raised the profile and extended the appeal of the show, resulting in increased distribution into over 30 different countries and millions of viewers. Taking the host and Executive Producer format forward, Elle launched NBC's "Fashion Star" in 2012. The innovative reality-fashion-competition series met with great success, and sold to 75 countries at MIPTV in 2012.
TODAY, ELLE SITS AT THE HELM OF TWO GROWING GLOBAL BUSINESSES AS CO-FOUNDER OF WELLECO AND ELLE MACPHERSON BODY.
Widely recognised as a global icon that women look to as a healthy example, Elle launched her wellness business WelleCo on her 50th Birthday. Since its launch in 2014, WelleCo and its premier product THE SUPER ELIXIR, have received praise from health care professionals, the media, celebrities and a growing loyal customer base around the world. A revolutionary alkalising greens supplement developed by leading nutritionists, THE SUPER ELIXIR continues to be a beauty best seller in the world's leading retailers Selfridges, Net-a-Porter, Space.NK, David Jones and importantly, through it's own site welleco.com. Elle and her business partner, Andrea Bux, are building what they believe will be the world's premium global wellness business.
Having licensed her name and image for over 25 years, 2016 sees Elle taking control of her lingerie brand and forming a new company to design, manufacture and sell her new lingerie label ELLE MACPHERSON BODY having formed a joint venture with Simon De Winter and his partner Solomon Lew.
Elle takes the helm as Co-owner and Founder/Creative Director with fresh new team and beautiful new designs. The group will initially bring product to market in Australia, United Kingdom and United States in 2016.
ACHIEVEMENTS
Throughout her business career, Elle has won many awards, including the Fig Leaves Entrepreneur of the Year Award (UK) 2005; Glamour Magazine Style Icon Award (UK) 2006; Elle Magazine International Style Icon Award (Spain) 2006; Marie Claire Prix de la Mode 20 Years Business (UK) 2007; Everywoman Outstanding Designer Award (UK) 2007; Femmys Lingerie Designer of the Year Award (USA) 2008 and the World Career Award, (Vienna) 2009. In 2009, Elle was the keynote speaker at the International Trademark Association (INTA) annual conference.
CHARITABLE ENDEAVORS
As a mother, Elle has always chosen to support causes with which she identifies. She was a global ambassador for (RED), Breast Cancer Care, Unicef, Smile Foundation and NACOA. Her strong belief that women and children have the fundamental right to healthcare services has led her to campaign and promote causes that work towards achieving this. Similarly her belief in the importance of a safe clean environment for children to grow has led to her support of ecological charity Sierra Club. Also, Elle aided in the children's foundation Piggy Bank Kids, a charity set up by Prime Minister Gordon Brown & wife Sarah after the premature death of the couple's daughter Jennifer.
In her local community, Miami, Elle works closely with The Miami Women's Fund in their endeavors. In 2014, she joined the group, hosting their annual fundraiser, Power of the Purse, drawing attention to women's influence through channeling their spending into products or businesses that give back to women's issues and practice ethically sustainable businesses.
After 17 years living in the UK, Elle moved to Miami with her husband and children to focus on her family and business ventures.