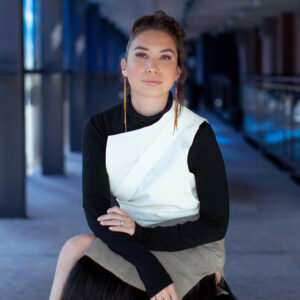 Sage Paul is an urban Denesuliné woman based in Toronto and a member of English River First Nation. Her ethos centres family, sovereignty and resistance for balance. Sage is the Executive & Artistic Director of Indigenous Fashion Arts a multi-platform arts organization, which she co-founded.
She has been instrumental in establishing and leading projects for Indigenous artists working in fashion, craft and textiles through several projects with Indigenous Fashion Arts (formerly Indigenous Fashion Week Toronto), Inland, Ikea Canada, the International Fashion Showcase during London Fashion Week, Setsuné Indigenous Fashion Incubator, the Canadian Trade Commissions in South Africa and London, Artscape Launchpad and Canadian department store Simon's.
Sage has contributed to InStudio Magazine (Banff Centre for the Arts), Walker Reader (Walker Arts Centre) and TEDx Toronto and has provided consultation for Toronto Metropolitan University, Canadian Art and Fashion Awards, Harbourfront Centre and several others, including artists in the art and fashion sectors.
Sage has received two nominations for the Premier's Award in Creative Art and Design (2019, 2022) and was recognized as "… leading Canada's Indigenous Fashion Movement" (En Route Magazine, 2019).
Sage received the Design Exchange RBC Emerging Designer Award (2017) and was honoured by the Ontario Minister of the Status of Women as a trailblazing woman transforming Ontario (2017).
Sage likes to call herself a philosopher and artist. Her ideas and process in creating her fashion and craft are catharsis of an urban Denesuline woman's experience – resourceful, intentional and resilient. She up-cycles fabrics and incorporates natural materials like rawhide and antlers in her design and costume work. In addition to designing for screen and stage, Sage's work has been exhibited in art and fashion shows across Canada. Sometimes she retails it too. But, creating is her favourite part.