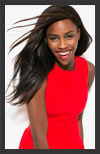 Tenika Davis – Nominating Committee
Tenika Davis began her career in 2006 as one of the finalists on the first season of the reality TV series Canada's Next Top Model. Following the show, Tenika signed with Ford Models and has since graced the pages of numerous international fashion magazines including Elle, Glamour, O, Fashion,and Glow.
Soon after beginning her modeling career, Tenika set her eyes on acting. Tenika's talent, determination, and hard work allowed her to land a lead role in the indie hit Jumping the Broomalongside Angela Bassett. Soon after, she was cast as Sara Suarez, the seductive action heroine in Twentieth Century Fox's successful franchise Wrong Turn 4. Tenika has also appeared in numerous other productions including the popular TV series' Degrassi: The Next Generation and Deal or No Deal and the films Saw VIand Debug. Tenika continues her successful journey as a model/actor believing that "with hard work and persistence anything is possible!"
CAFA: What sets Canadian Fashion apart on a global scale?
TD: Canada's unique ethnically and culturally diverse background gives us the privilege of having some of the most creative and hardworking artists residing within our borders. Our designers understand the needs of our local market as well as the international market. Combining our diverse cultural backgrounds, varying weather patterns, and our amazing skill sets, the result for Canadian fashion is brilliant creative options.
CAFA: The Canadian Arts & Fashion Awards were named to highlight the artistic nature of fashion. What does the concept of "fashion as art" mean to you?
TD: Fashion is a living personality statement, a creative expression of who and where we are at a given moment in time. Fashion as art is living, breathing, moving – a unique liberating embodiment of human creativity.
CAFA: What excites you most about CAFA as a national initiative?
TD: It is a blessing to work with such an eclectic, diverse group of professionals. The opportunity to learn and grow with the industries best through CAFA is valuable indeed. It is long overdue, and such a relief to have a vehicle of recognition and aid for our talent! Through CAFA, a victory has definitely been won, our national pride is reaffirmed and our talents' stress levels, which can lead to gray hairs and designer patterned baldness, will hopefully be lessened!
By: Alexandra Thais Serrano
aserrano@cafawards.ca