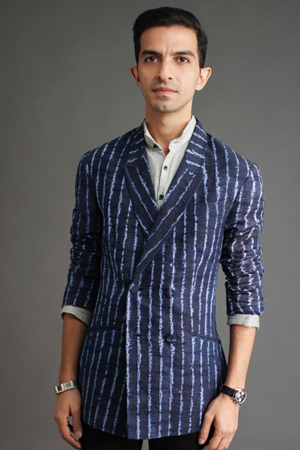 Imran Amed, CEO and Editor-in-Chief,
The Business of Fashion (BoF)
Imran Amed has emerged as one of the global fashion industry's leading writers, thinkers and commentators, and is founder, CEO and editorin-chief of The Business of Fashion (BoF).
In 2007, Imran Amed began writing a blog about the fashion business from his sofa in London's Notting Hill. Even though he had no professional experience or training in fashion, he had long been fascinated by the industry, and its intriguing blend of creativity and business.
As it happens, the fashion industry was about to be shaken to its core. Social media and new technologies were about to explode onto the fashion landscape, markets in China, India and Brazil were rapidly rising in importance, and the financial crisis of 2008 would create a stepchange in consumer values and expectations. The fashion industry was emerging as a powerful force in popular culture and there was much to analyse, dissect and explore.
Building on his experience as a management consultant, Imran explored these key issues head on, and in doing so began to build a loyal community of readers, as well as a group of global contributors and writers who created thoughtful commentary and in-depth analysis that took the fashion business seriously. As an advisor to luxury goods groups, young fashion designers and technology start-ups, Imran came into contact with a wide cross-section of the industry, enabling him to draw patterns and predict key market changes long before they were on the radar of the mainstream media.
In just five years Imran had grown The Business of Fashion into a credible industry authority. Each morning, tens of thousands of readers woke up to BoF's addictive Daily Digest email newsletter, sparking conversations and discussion in conference rooms, studios and classrooms around the world.
In 2013, after financing BoF for 6 years independently as a passion project, Imran decided it was time to dedicate his full time and energy to turning it into a business. He raised a $2.5 million seed funding round led by Index Ventures (investors in Skype, Net-a-Porter and Farfetch) with participation from a wide range of respected investors coming from the worlds of fashion, technology and media. He hired a full-time team and moved BoF into its first office in London's Soho. Today, BoF has grown into the pre-eminent global industry resource for the fashion industry, with 1 million unique visitors per month, and more than 3 million followers on social media from over 200 countries around the world. The BoF team numbers more than 30 people overseeing multiple verticals including the BoF 500 (an annual list of the people shaping the global fashion industry), BoF Careers (the global marketplace for fashion talent), BoF China (a Chinese language edition) and BoF Education (fashion's platform for online learning).
Imran is also an Associate Lecturer at Central St Martin's College of Art & Design. He has sat on international fashion juries at The Royal Academy of Fine Arts in Belgium, the Festival d'Hyères in France, and Who Is On Next in Italy. He has been named in Fast Company's annual list of the Most Creative People in Business, British GQ's list of the 100 Most Influential Men in Britain, Indian GQ's list of the 50 Most Influential Global Indians, British Vogue's list of 25 New Fashion Faces to Watch, and Wired UK's list of the 100 most influential figures in Britain's digital economy.
In 2014, Imran was the youngest ever recipient of the Desautels Management Achievement Award at McGill University. In 2015, he was named Honorary Professor of Fashion Business at the Glasgow Caledonian University.
Previously, Imran was a management consultant at McKinsey & Co. He has an MBA from Harvard Business School and a B.Com from McGill University. He holds British and Canadian citizenship.