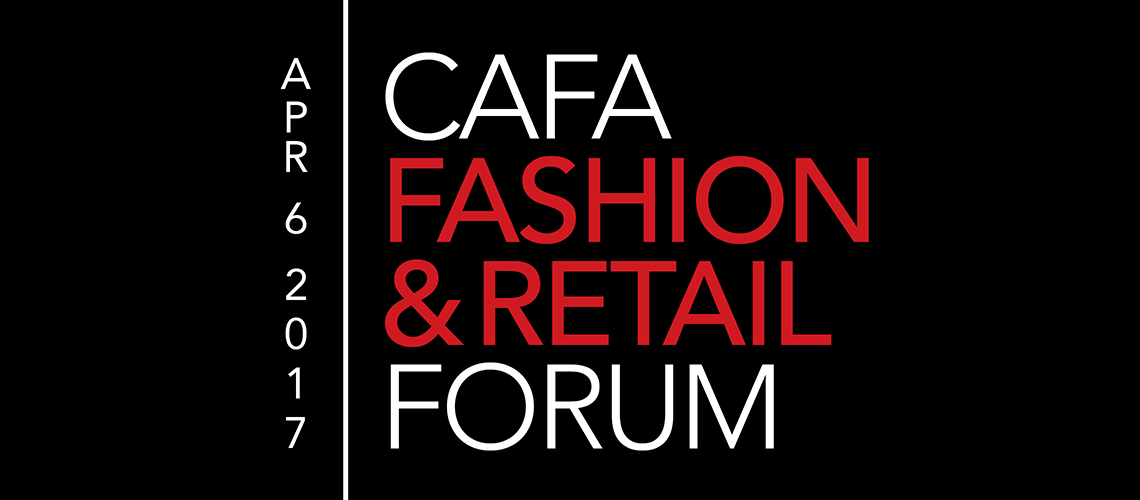 CAFA FASHION & RETAIL FORUM
Presented By
CAFA is pleased to introduce the CAFA Fashion & Retail Forum, a business-focused event that took place on Thursday, April 6th 2017.
As part of CAFA's ongoing efforts to foster economic development in the Canadian fashion industry, the CAFA Fashion & Retail Forum featured thought-provoking conversations with Canadian and international industry leaders across retail, fashion, and technology. This business focused event featured dynamic panel discussions on prominent issues and opportunities facing the fashion industry, with topics including trends in consumer spending behavior and the omni-channel response to an increasingly digital retail landscape.
Bringing together an audience of entrepreneurs, institutional investors, designers, media and influencers, the Forum will offer a coveted networking opportunity highlighting commerce, collaboration and innovation.




A fireside chat with fashion insider Edward Menicheschi 
Founder, Silver Fox Productions
With over 25 years in the publishing world working closely with GQ, Vogue, Vanity Fair and WWD, former Chief Marketing Officer and President, Media Group, of Condé Nast, Menicheschi  will share his thoughts on the future of storytelling.

Building an International Brand
An intimate conversation with Byron and Dexter Peart, Co-Founders and Creative Directors of WANT Les Essentiels
Named by Fast Company amongst the 100 Most Creative People 2015, included in Business of Fashion's prestigious BOF 500 | People Shaping the Fashion Industry 2014 and 2015, and awarded the Canadian Arts and Fashion Award for Accessory Designer of the Year in 2014 and 2016, Byron and Dexter Peart are co-founders and co-creative directors of WANT Les Essentiels. Their global brand, which is celebrating its 10-year anniversary this year, has been featured in numerous prestigious publications, is sold in many of the finest retailers worldwide as well as well as in their own WANT Les Essentiels stand-alone store and WANT Apothecary retail outlets.

Retail Revolutions with Anne Martin-Vachon President of the Shopping Channel 
Drawing from her 30 plus years in retail, Chief Merchandising Officer at Home Shopping Network (HSN), senior roles at Nordstrom, Bath & Body Works, and Lise Watier Cosmetiques and 20 years at Procter & Gamble, Martin-Vachon will discuss the evolution of shopping platforms and what the future holds.

CAFA Tech Talk with Dax Dasilva, Founder & CEO of Lightspeed
The creative mind behind Lightspeed's suite of retail, hospitality and eCommerce tools. Lightspeed provides industry-leading omnichannel commerce tools that enable more than 40,000 small and medium-sized businesses worldwide to thrive. His vision of blending the best of the digital and physical worlds continues to guide the company today. Lightspeed helps its customers process over $15 billion in transactions annually.

Building a Global Fashion Platform: an inside talk with Guillaume Mercier,
Vice President of Marketing, SSENSE
Guillaume Mercier is the Vice President of Marketing for SSENSE, a Montreal-based fashion platform currently serving 114 countries and generating an average of 32 million monthly page views. Founded in 2003, SSENSE is pacing the vanguard of directional retail with its mix of luxury, streetwear, and avant-garde labels. Guillaume joined SSENSE from Elysium, a startup envisioned by Guy Laliberté, where he was President and General Manager, working with world-class creatives. Guillaume holds an MBA from Harvard Business School and is Chairman of the Board for the non-profit organization Pour 3 Points.

The Future of Retail with Eric Morris, Director, Search & Performance, Google
Eric Morris is the Director of Search and Performance Advertising at Google, where since 2002, he has worked alongside Canada's top marketers and advertising agencies.
Eric has held several leadership roles at Google Canada, leading sales, operations, research, strategy and analytics for Google's advertising business. Most recently, he launched and led Google's mobile advertising business in Canada.

The State of the Consumer
A discussion about consumer spending behavior with experts who have their hands on the pulse of the retail industry
Ethan Song, Co-Founder of Frank & Oak
Jackie Tardiff, Senior Vice President, Reitmans